Vigil for Incarcerated Youth
July 21 @ 6:30 pm

-

7:00 pm

CDT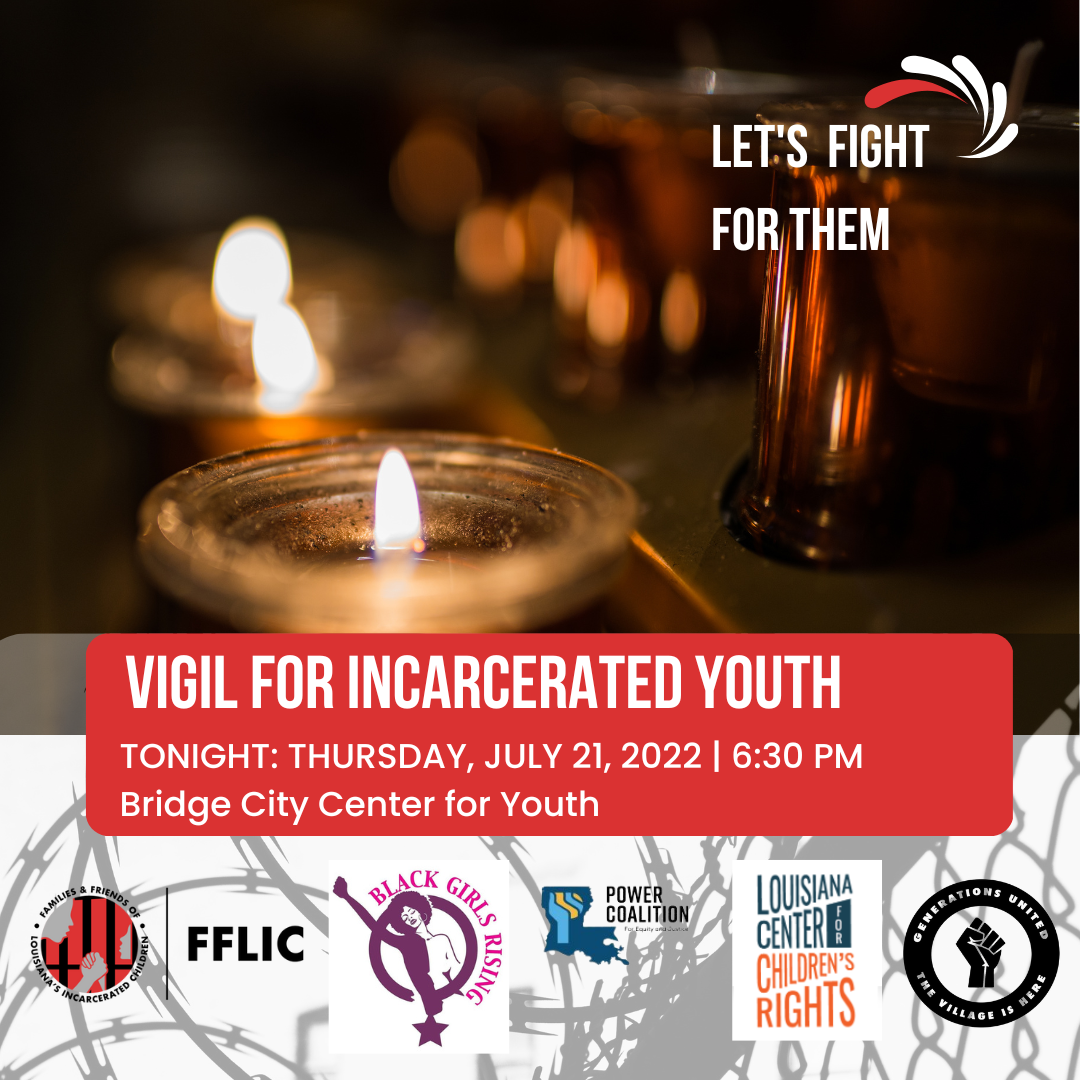 Following news of the Governor's plan to move youth from Bridge City to Angola, Louisiana's youth justice partners and families will hold a candlelight vigil tonight, Thursday, July 21, from 6:30 to 7:00 PM in front of Bridge City Center for Youth.
Youth justice advocates oppose the Governor's decision as an egregious act of institutional violence and violation of human rights. Youth need safe, healthy environments and supportive rehabilitative services. Instead, the state continues to ignore the needs of young people and their communities and perpetuate a cycle of harm. Punitive approaches that expose youth to additional violence and abuse are proven to be ineffective and harmful.
Gina Womack, Co-Founder and Executive Director of Families and Friends of Louisiana's Incarcerated Children, states, "The Governor's plan to house youth at Angola State Prison is cruel and outrageous. Angola is an adult facility built on former slave quarters that is historically known for horrific violence, abuse, and sexual assaults caused by institutional and systemic violence. To house children at this facility and under the same harsh and violent conditions as adults demonstrates the Governor's lack of understanding of developmentally-appropriate rehabilitation and commitment to dismantling systems of racism and oppression in Louisiana."
We invite the press and community members to join our youth justice partners for a candlelight vigil at Bridge City Center for Youth at 3225 River Road in Bridge City from 6:30 to 7:00 PM to mourn the lost dreams and opportunities of youth, especially Black and brown youth, and speak out against the Governor's decision to send children to Angola.
Families and Friends of Louisiana's Incarcerated Children (FFLIC) 
in collaboration with:
The Power Coalition
Louisiana Center for Children's Rights (LCCR) 
Black Girls Rising
Black Man Rising