#GivingTuesday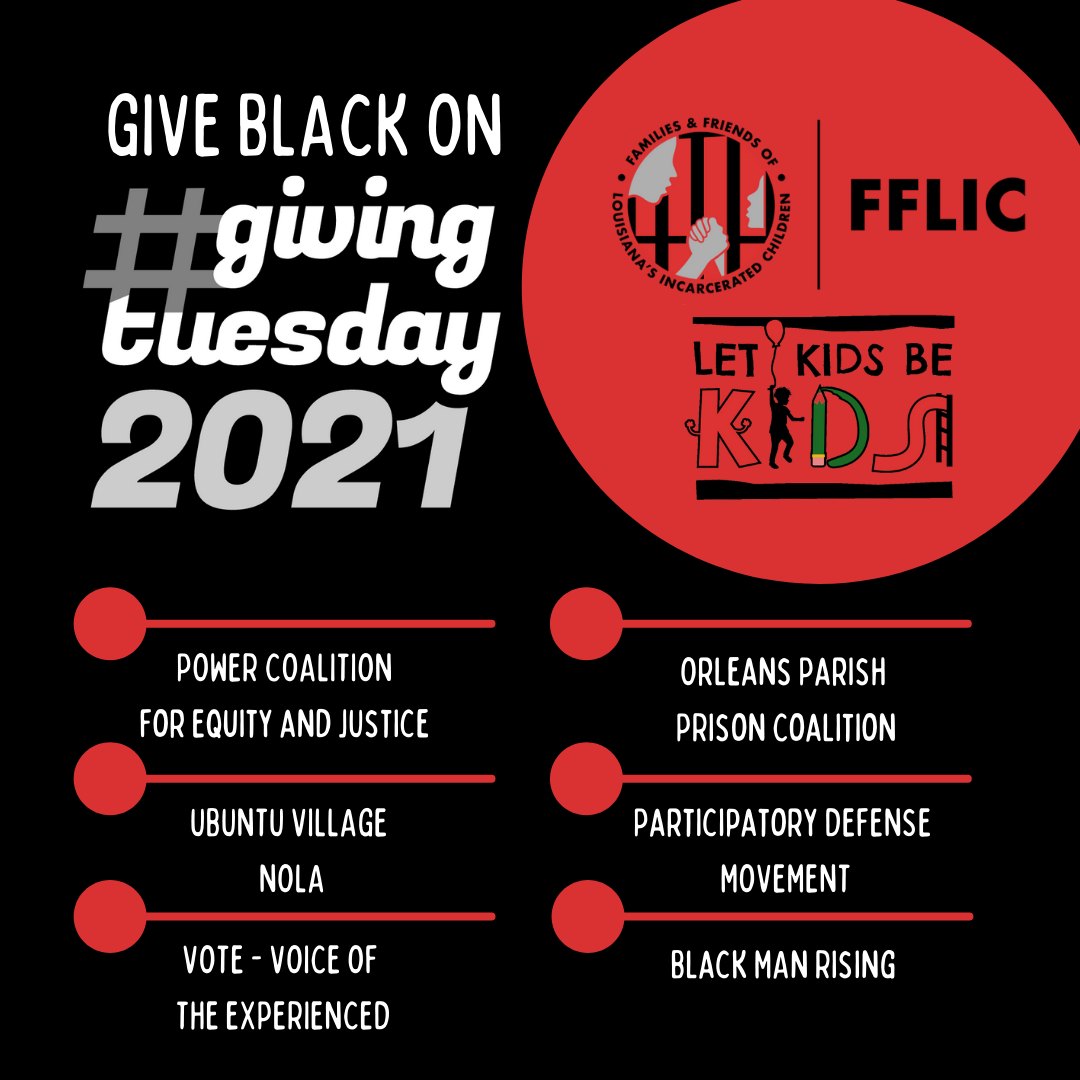 #GivingTuesday, taking place on November 30th, is a day of generosity and gratitude, and we want to thank you for supporting our work to #LetKidsBeKids and end youth incarceration. This year Families and Friends of Louisiana's Incarcerated Children (FFLIC) is commemorating our 20th anniversary of building intergenerational Black female leadership in the fight for the rights of youth targeted by systems of incarceration and their families. FFLIC was founded in 2001 on the belief that those most directly impacted should lead permanent change. At that time, parents, many of them Black mothers, came together to support one another in advocating for their children who were caught up in Louisiana's brutal and ineffective youth incarceration system.
Looking back, we are proud of our successes in the past twenty years, including our first campaign and the landmark closing of Tallulah Youth Correctional Facility in 2003. This is especially true because our experience has told us that it's harder for Black-led organizations to survive and thrive. For the past two decades, FFLIC has continued our fight to eradicate youth prisons, build collective power for directly impacted families, help pass critical legislation, and advocate for healthy functioning networks of support through our #LetKidsBeKids platform.
FFLIC is now closer than ever to realizing our founding goals with the launch of our youth-led  LA HOOP Coalition (Harvesting Opportunities Outside of Prison) and their #NoMorePrisons campaign. We would not have reached this point without you, our beloved partners and supporters. Your commitment to funding Black leaders and communities with the lived experience of racial oppression is the most direct path to dismantling systems of racism. 
We thank you for standing with us in unity and strength to demand alternatives to punitive and abusive systems, and envision a world without bars. 
To donate to FFLIC from now until #GivingTuesday visit: https://bit.ly/givingtuesdayfflic.
Sample Posts for Social Media:
This #GivingTuesday I am funding Black-led racial justice work to shift power and uphold self-determination. I am donating to @FFLICLA to support the work of building intergenerational Black female leadership to end youth incarceration #GiveBlack 

https://bit.ly/givingtuesdayfflic

 

We can give in ways that shift power this #GivingTuesday. Support Black-led nonprofits like @FFLICLA and ____names of others___ that  know that the people most directly impacted should lead the change.

Giving to Black-led nonprofits like @FFLICLA (insert others) –who understand the lived experience of racial oppression and center those most impacted– is the most direct path to dismantling systems of racism. #GiveBlack this #GivingTuesday