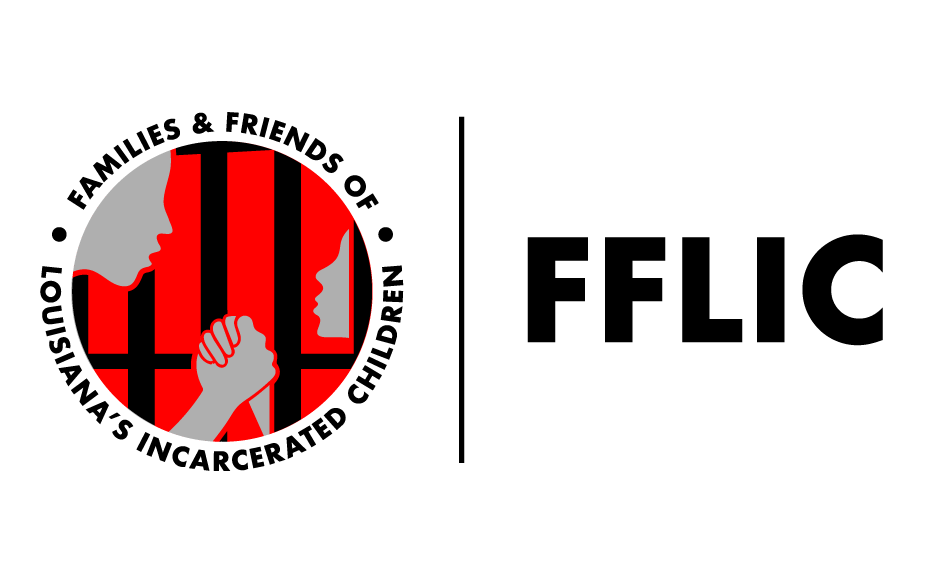 FFLIC seeks a Lead Statewide Organizer (LSO)
Are you an experienced organizer interested in motivating community members and engaging brand new voters? Are you skilled at helping families advocate for their children impacted by inequitable education and justice systems? Are you seeking to utilize your leadership in developing grassroots campaigns and building the movement to end the school-to-prison pipeline?
Families and Friends of Louisiana's Incarcerated Children (FFLIC) is a statewide grassroots, multi-generational membership-based organization committed to abolishing all forms of state violence against Black youth — especially youth in New Orleans — through transformative organizing, holistic leadership development, and advocacy. We seek to divest from the youth justice system and invest in community-based alternatives, including policies that transform our educational system into one that truly serves young people.
We are seeking a highly motivated and driven person to join our team to outreach to families and youth to build the movement in Louisiana to end mass incarceration and school pushouts.
Responsibilities
Supervise and support FFLIC Chapter Leaders in FFLIC's 4 chapter locations (New Orleans, Lake Charles, Shreveport and Lafayette) as follows:
Outreach and Recruitment:
Through FFLIC's advocacy and outreach protocols, work with chapter leaders and staff to coordinate advocacy and outreach efforts identifying and supporting parents and families struggling with a child in the education and youth justice systems.
Continue to build, recruit, and re-engage our member base with an understanding of digital organizing techniques to ensure effective outreach during and post-pandemic.
Coordinate with chapter leaders and other staff to develop any needed outreach materials.
Coordinate with chapter leaders to lead chapter meetings with parents in all chapter locations.
Coordinate and facilitate FFLIC's statewide annual membership meeting with chapter leaders and staff
Ensure all information collected by chapter leaders from families is databased for story circle/blogging and reporting needs across the state
Coordinate and support Get Out The Vote (GOTV) activities
Other duties as assigned.
Community Building and Membership Development:
Coordinate with chapter leaders and other designated staff to conduct Leadership Development and Community Building Leadership training of members in order to develop peer advocates and community leaders.
Coordinate quarterly membership drives with chapter leaders and other designated staff.
Support growth of chapter leaders as they continue to build their skillset.
Other duties as assigned.
Taking Action and Confronting Power:
Coordinate and develop (with chapter leaders and members) statewide and local campaigns in each of FFLIC's chapters that empower members to transform the youth justice system; transform local school systems; demand quality community based programs and opportunities; and develop other local campaigns the membership deems necessary within FFLIC's vision and mission.
Coordinate with chapter leaders members participation in the LA HOOP (Harvesting Opportunities Outside of Prison) Coalition to end the rebuilding youth prisons.
Coordinate with chapter leaders to prepare members for any direct actions related to statewide and local campaigns.
Coordinate FFLIC's annual Love Beyond Bars Campaign with chapter leaders and other staff.
Organizational Management:
Personal Professional Development.
Develop volunteer programs and supervise as needed.
Follow all organizational management protocols.
Other duties as assigned.
Qualifications
The ideal candidate for this position has a proven commitment to improving lives of children and youth and is a strategist with excellent supervisory, communication and interpersonal skills. We are seeking candidates with experience in the social justice, racial equity, and civil rights field who have successfully worked with grassroots communities incorporating youth leadership and youth development best practices. Must have a valid driver's license, a vehicle, and automobile insurance; must be able to pass a criminal background check and travel the state of Louisiana;
Additional Skills
· Self-starter, requiring minimal supervision.
· Strong project management and facilitation experience.
· Strong writing and communication skills, grant writing and fundraising experience a plus.
· Ability to work collaboratively with people from diverse backgrounds and experience.
· Ability to build teams and motivate staff and members to work together towards FFLIC's collective goals.
· Ability to manage multiple details while focusing on moving the big picture.
Compensation
Salary Range: $50,000- $55,000 based on annual FTE, commensurate with experience. This is a full-time, exempt position with 100% benefits covered by the organization. Position start date is planned for no later than August 15, 2021.
How To Apply
Please email a resume, cover letter, and writing sample (3 pages or less) by July 20, 2021 to Sonji Hart: [email protected]
No phone calls, please!
FFLIC is an EOE. FFLIC values diversity and is an affirmative action, equal opportunity employer. FFLIC does not discriminate based on race, color, gender, religious creed, national origin, ancestry, disability, or sexual orientation.
Job Type: Full-time
Benefits:
Dental insurance
Disability insurance
Flexible schedule
Health insurance
Life insurance
Paid time off
Professional development assistance
Vision insurance