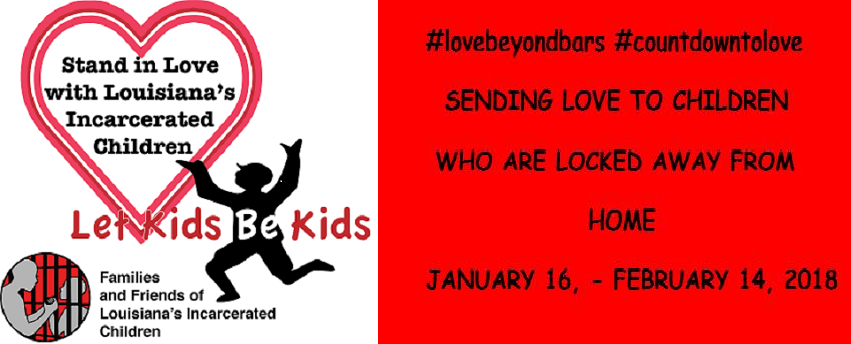 Welcome to our 2nd annual "Stand in Love" Campaign. On Valentine's Day, February 14, 2018, we are sharing love to support our youth in Louisiana who are locked in prison away from family and friends on this annual day of Love. We are reaching out in hopes that you will join with us and create valentines. You can hand make a card like you used to in school, grab a pre-made card from the store or print out one of our pre-made cards (card1, card2, card3) and personalize the card by coloring the front of it. Whichever you choose, please add a simple message like "we are thinking of you" and include your first name only, your city and your state.
Please do not make any promises when leaving a message for our youth.
You can call Gina at 504.481.2376 to arrange a pick up, or mail you card(s) by February 10th, 2018 to our office at:
FFLIC
1307 Oretha C. Haley Blvd. #303
New Orleans, LA 70113
You can also make a video to upload on our Facebook page here: Please print out card1 and hold in the video.
Join us on Facebook, twitter, instagram, and follow our Facebook "Stand in Love" page for updates and content that you can share to help support and promote this campaign. Please share with your family and friends to raise awareness. Add hashtagsL #standinlove2018, #letkidsbekids, #lovebeyondbars, #countdowntolove
You can also take a moment and review our #LetKidsBeKids Campaign – 3 point platform. We hope that you will sign on and work with us to tell our lawmakers and everyone who work on behalf of children, what youth and their families are telling us they need.
PLEASE CONTACT GINA IF YOU HAVE ANY QUESTIONS. 504.481.2376, OR [email protected]
LET'S GO FFLIC FAMILY! #standinlove2018, #letkidsbekids #lovebeyondbars #countdowntolove