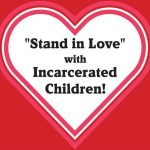 As we continue to witness unprecedented changes to policies and laws by the Trump administration that are placing our children and families in imminent danger, we must be strong in our resolve to promote love to eradicate the hateful actions being forced upon on us.
On Valentine's Day, February 14, 2017 many of us will share and show our love to our children and families in the comfort of our homes.  Unfortunately, hundreds of children across the state of Louisiana and around the world will have no loved ones near to share their love with.
That is why Families and Friends of Louisiana's Incarcerated Children (FFLIC) as part of our Let Kids Be Kids campaign will "Stand in Love" with Incarcerated Children in Louisiana and everywhere!
Beginning February 1, 2017 through February 14, 2017 we are asking you to "Stand in Love" with us by recording a quick video clip (no more than 10 seconds) to show and share your love and support for our children who will be locked behind bars on this day of love.  Your video should contain a simple message:
"My name is ___________________________ from _____________________________and I stand in love with (your state) incarcerated children.  Let Kids Be Kids."
If you are unable to record a video, or if you would also like to post a personal message to an incarcerated child, please click the Stand in Love Sign link and print out our sign.  Please put your name on the sign, your message, and then take a picture holding the sign.
The video and picture can be uploaded to our "Stand in Love" Facebook page.
We are working with Louisiana's Office of Juvenile Justice so that on February 14, 2017 our incarcerated children from across the state can view all the videos and pictures posted on Facebook.  We encourage you to share the Facebook link with those in your state so that this day of love can reach all of our incarcerated children.
We will also be sending posters to all the juvenile facilities in the state of Louisiana for our incarcerated children.  The posters will be signed by our members, allies, and the community.
We hope that you will join us and spread the word about our "Let Kids Be Kids" campaign.
Remember to post on Facebook or Tweet using #fflic-letkidsbekids and #fflic-standinlove to raise awareness of the campaign!
We must continue to spread LOVE to drown out hate!
JOIN US!
Yours in Solidarity,