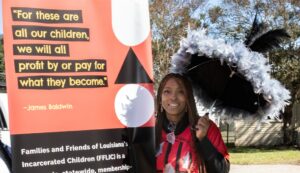 A Message from FFLIC Office Manager, Danise Pruitt
What I want for every child, is what my sons, who are now sixteen and fourteen, have. I have always really paid attention to them and I see them for who they are, and I also see the potential they have. I want all children to be seen in that way, and we have to change the narrative. Despite what the news and policymakers seem to believe, our children are not superpredators or criminals. I am from the Lower Nine, and I was born and raised in the Lower Nine. Back in the days, that was one of the most notorious crime areas. So I know what it's like to be looked at a certain way. But we have to keep changing the way white supremacist culture has defined and labeled our Black and brown youth.
For me, this work is personal. Not just because of my two sons, but also because of my uncle. My mother's brother, who was my only living uncle, was sent to the Milne Boys Home when he was only twelve years old. At that time, the Milne Boys Home was notorious for violence and abuse in the same way our youth prisons are today. That's where they put boys who had supposedly done something wrong. He died trying to escape from the Home. He drowned in the canal because he didn't know how to swim. (Black kids often never learned to swim because they weren't allowed in swim facilities meant for white people.) When my mother told me about him, I could see the pain in her face, and my aunt's face. I've lost an uncle to the youth incarceration system, and it's made me even more impassioned about the work. 
That's why my heart goes out to the mothers and families of incarcerated children. And this has been an especially difficult time, with the pandemic, and then Hurricane Ida. When I was doing outreach to families to check-in and see how they were doing after the storm, I remember one mother of an incarcerated child. She told me her son had been evacuated to an adult prison from a detention center in New Orleans during the storm. I could hear the pain and disappointment in her voice, similar to what I'd seen in my mother's face. And then, after learning about the evacuation, she described a phone call with her son where there was a prison staff member on the call. So she knew that her child couldn't be outright honest with her about what had happened while he was at the adult facility. 
I am a mother. And I know how important it is for my kids to be able to talk to me. And my heart goes out to that mother because she knew her child had been harmed and she couldn't speak with him or comfort him the way she wanted to. They were listening and waiting for him to say the wrong thing.
One of the things I appreciate about FFLIC is that we are on the ground talking to and helping families. We are hands-on with our clients, and bigger organizations depend on grassroots organizations like FFLIC. I saw how after Hurricane Ida, families didn't receive the support they needed from larger organizations, and FFLIC stepped in to meet their needs. The support FFLIC gives actually reaches the people who need it most, and it's more direct.
Once again, I can identify with our families. My oldest, Robert, was two months old when we left for Hurricane Katrina. I remember thinking to myself, "If we flood, I can't get up in an attic and feed a newborn baby. I've got to leave." After the storm, it was difficult. It caused the splintering of our entire family because we all had houses in the Lower 9th Ward that were destroyed.  So I've been there, though I may not be in the same shoes.
Another mother of an incarcerated child explained to me that she was trying to keep a roof over her head while having to pay the detention center's phone fees to speak to her child, and then a monthly bond and ankle monitor of over $1000 so that he could be safe at home instead of living a nightmare in a cage. I could only imagine the weight of responsibility of having to spend that kind of money while trying to evacuate. She was behind on rent and utilities when I spoke with her.
Families are going through so much, and as a result, children go through so much. I remember when I was young, I was walking and thinking I didn't ever want to go back home, and I remember a woman who came and picked me up and encouraged me. I can't even remember exactly what she said, but it lifted me back up. When I think back to that, I realize, we have what it takes to be impactful, to give light in dark times for children, especially those who are struggling, those who feel that no one understands them, no one sees them. To do that we have to understand them and to see them. When my son Robert expressed interest in engineering, I found a mentor for him, and when Christian was young, I saw that he was good at drawing and writing stories, so I knew he would go to the New Orleans Center for Creative Arts. By seeing a child and seeing their potential, we have the opportunity to steer them away from more harm. 
That's why we need to close youth prisons and invest in community-based supports. We can't let the system continue to steal the dreams and hopes of our youth. We can't keep blaming children for the failure of adults to see their potential and help them grow. We have to invest in frontend solutions like mental health supports, job opportunities, and recreation programs.  73% of Louisianans support a youth justice system focused on prevention and rehabilitation rather than punishment. We need to invest in the solutions we know work, for not just my kids, but all of our kids, and that is love, support, and community.